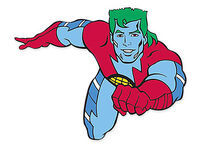 Captain Planet is a character from his namesake series.
Mike used to watch this show when he was young.
Early on in his streams Mike had Captain Planet and Captain Pollution in his Skype but they disappeared. Soon after Mike watched many videos of Captain planet and even played a bad LJN game with Captain Planet in it.
Ad blocker interference detected!
Wikia is a free-to-use site that makes money from advertising. We have a modified experience for viewers using ad blockers

Wikia is not accessible if you've made further modifications. Remove the custom ad blocker rule(s) and the page will load as expected.