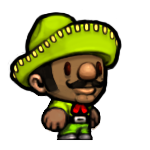 Chico is a character model from Spelunky. He originates from when Mike streamed Spelunky around 2014.
He was named by Mike for his stereotypical appearance. Chico loves to steal from Shopkeepers and when he dies, he mysteriously comes back to life. His theme song is "I Lie, I cheat, I steal" and stereotypical Mexican music.
Ad blocker interference detected!
Wikia is a free-to-use site that makes money from advertising. We have a modified experience for viewers using ad blockers

Wikia is not accessible if you've made further modifications. Remove the custom ad blocker rule(s) and the page will load as expected.