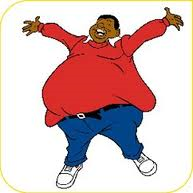 Fat Albert is a stream regular become troll that caused the creation of the RUC.
Personality
Edit
He was an immature, dickish loser that would start controversies.
After he got banned he was potrayed as a pathetic loser that tries to be an evil villain. It got worse when the RUC was shown.
He also tried to be like the real Fat Albert but slipped up until his banishment.
When he first showed up he was just another stream visitor with his occasional slip up of douchey-ness, but as time progressed he became more and more annoying. Eventually, all he would talk about is wanting to get Bern banned and fucking her sister. Hatter had it with his antics and banned him.
Afterwards, Albert proceeded to create an identical account, the only change being an added 2 at the end, only to get banned once more. He would then continue to make new accounts (of the same pattern; adding more numbers at the end) to express his bitterness in the chat. Later on, he started a petition to get Bern and Vincent banned from the chat because Bern was a transgender fan of Anime and Vincent was apparently too young to be there. After that nonsense, he came back to the chat, but was given a chance to talk for a bit. He said the same old crap as before and eventually got bored from having no reactions, so he left once more.
He began coming back later with his names instead being about how he wants Bern to die. He started doing this most likely in conjunction with the other members of the RUC. All the accounts would swiftly get banned.
Either the original Albert or an imposter created the Radioactive Uber Clan in reaction to his banning.
Although Albert didn't inspire as many trolls as the RUC, he was the original user to screw with the chat. So he is still the spark that caused the creation of many trolling and roleplaying accounts. Eventually all the trolls were given the nickname of "Albert".
It's gotten to the point where Mike believes every single troll in his chat are Albert alts, possibly because of other people calling the trolls Alberts and that he doesn't believe there'd be this many trolls with different personas after him(Though he sometimes pretend they're different regardless).
There have also been parody Albert accounts ranging from a Mexican Albert, a Touhou Albert, An Albert with a Foot fetish, And the "real Fat Albert"(Not to be confused with Real Albert) who wanted to sue Albert for ruining his image.