Gabe the Dog(???-January 20th, 2017) was a American Eskimo/Pomeranian mix known for people remixing him into various songs(Mainly Undertale).MikeNnemonic came across his videos shortly after finishing streaming Undertale and almost every stream after he ended up having to listen to the doge remixes.
However on January 20th, 2017 Gabe ended up dying due to Heart complications. This shocked Mike and he refuses to believe he died.
Stream character

Name
Gabe the Dog.
Origin
Youtube
Introduced in
Unknown
Features
Gabe remixes
Skills
Bork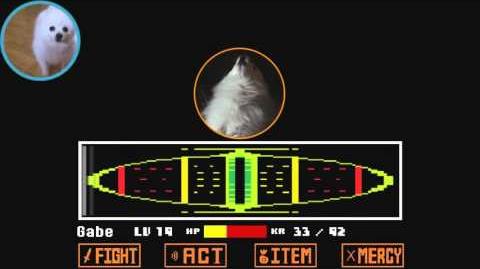 Ad blocker interference detected!
Wikia is a free-to-use site that makes money from advertising. We have a modified experience for viewers using ad blockers

Wikia is not accessible if you've made further modifications. Remove the custom ad blocker rule(s) and the page will load as expected.