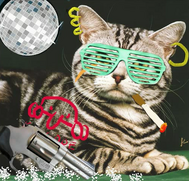 L0rd Vega's Cat is the cat owned by L0rd Vega.
He can open doors and is pretty chill. Mike admires Kibbles very much. When Vega left, Mike made a video pretending to be the cat. Apparently Kibbles got angry of being left by L0rd Vega and learned how to use the Internet to rant about his disappearance. Not wanting to starve to death, Kibbles pryed open the door and started a new life.
Ad blocker interference detected!
Wikia is a free-to-use site that makes money from advertising. We have a modified experience for viewers using ad blockers

Wikia is not accessible if you've made further modifications. Remove the custom ad blocker rule(s) and the page will load as expected.