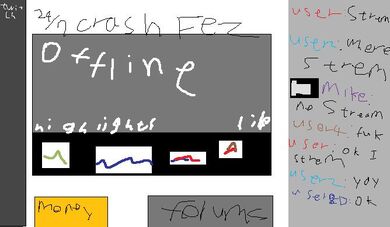 Whenever people got bored of talking to each other in the chat or if Mike was unable to stream, someone would announce a stream and people would watch them for a while.
One of the people to first do this is Glacken in 2012 or 2013. After having other people stream became a bit more common, Ambush Bug ended up making his own schedule. Then after some time others got on the streaming bandwagon and made their schedules for their streams. On the old forums there was an announcement thread for people to say they are streaming and this carried over to the new forums. As time went on the streams became their own thing and wasn't just to do in place of Mike.
A chart of the current streamers can be seen here
With Schedules
Edit
Ambush Bug has a schedule Here
Default Set up a schedule after getting a new computer Here
Spot has recently done streams. Here
Bern has a schedule now, and has less internet related issues. Here
Without Schedules
Edit
Soviet Steve Does it whenever Here
PSGuitarist7. Streamed some times Here
IRAwesome. did a few streams before Here
One Shot Wonders
Edit
cesarvthunder1. Streamed DMC4 when the Radioactive Uber Clan ruined Mike's stream. Lots of people went to his stream that time, though his later ones garnered less attention. Here
Vincent did a couple streams in 2013. The streams on Ustream consisted of webcam things. He also did Twitch streams once or twice, but encountered many technical difficulties. Then in 2015 he attempted to stream again. He did a stream on Livestream in which he commentated over a movie, but gave up on that soon after. He also tried to do art streams on Picarto a bit after that.
Lambda's Pseudo-Streams via Synchtube. ( Private )
Ad blocker interference detected!
Wikia is a free-to-use site that makes money from advertising. We have a modified experience for viewers using ad blockers

Wikia is not accessible if you've made further modifications. Remove the custom ad blocker rule(s) and the page will load as expected.