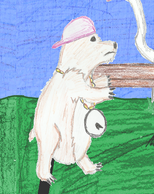 Rude Bear is a flash game.
It was part of the Pirate Bay bundle that Mike played. He ended up enjoying the game to the point of playing through all of it. He later used the music from the game in other streams, most notably for RWRBear.
Ad blocker interference detected!
Wikia is a free-to-use site that makes money from advertising. We have a modified experience for viewers using ad blockers

Wikia is not accessible if you've made further modifications. Remove the custom ad blocker rule(s) and the page will load as expected.